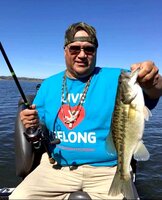 John Morla
John Morla passed away in Plymouth, California in the afternoon of November 17, 2021 at the age of 62. He will be dearly missed and cherished by his friends and family.
John Morla is preceeded in death by his mother & father: Gloria & Juan, his sisters: Betty & Mary, and his brothers: Albert & Robert.
He is survived by his wife Shelley and his fourteen children: John Jr, Clarence, Robert, Susan, Mary, Kevin, Angel, Steven, Timothy, David, LaTeshia, Christopher, MaKyle, & Rebecca.