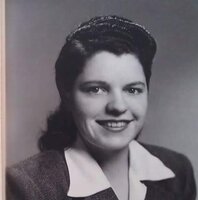 Winifred Maud Fraser
Winnie was born and raised in Los Gatos, CA. She was the daughter of Frank M. Tucker and Grace Phillips Tucker. She was introduced to her future husband, James M. Fraser by her sister and brother-in-law. She and Jim were married in 1953. It was in Clarksburg where Winnie and Jim raised their three daughters; Frances, Cheryl and Nancy.
As a member of the Clarksburg community Winnie was always busy. She was a member of Eastern Star, Onisbo Chapter #164, in Courtland where she earned her 50-year membership pin. She volunteered as a member of the American Red Cross and ran the Cancer Dressing Station in Courtland where she often took her daughters to teach them the importance of caring for others.
She loved to cook and over the years you could find her at the Church Youth Group Camp Tamarack cooking meal after meal for the hungry campers. She also headed up many fund raiser dinners when her daughters were in high school to help raise money for various school activities. Her specialty was enchiladas for 200.
After taking a correspondence course Winnie became a certified locksmith. She could change locks, make keys, even help a few Clarksburg residents break into their homes.
Winnie became a golfer and often received awards for her skills and her low scores and long-distance hits for women in her "age group." She was skilled in teaching anyone who would ask, how to properly hold a golf club. She was most proud of the hole in one she hit many years ago.
Winnie was often seen doing yard work at the home she loved. In later life Winnie was frequently seen as she took her daily walks about town. Winnie was known for living her life her way and passed on peacefully in her home of 68 years surrounded by her loving family.
All of Winnies family would like to give special thanks to her caregiver Danette Dahlberg. Danette provided many, many hours of loving care to Mom and earned the badge of being one of moms' girls. We can never find the words adequate to thank her for all she did for Mom.
Preceded in death by husband James M. (Jim) Fraser. She is survived by her three daughters:
Frances Raymond (Rick – deceased); granddaughter Christi Raymond (Rick Perez), great-grandchildren Halie, Ariel; granddaughter Jamie Raymond (Julio Colmenares).
Cheryl Fraser (Pat Philbin), grandchildren Maya Fraser-Philbin, Anna Fraser-Philbin.
Nancy Gould (Hilary); granddaughter Kim Pennington (Adam), great-grandchildren Owen, Olivia; grandson Jeff McHenry (Amanda Polomares Sugden).
Many nieces and nephews
Memorials in lieu of flowers
Clarksburg Volunteer Firemen
P O Box 513
Clarksburg, CA 95612
Friends of the 1883 Clarksburg Schoolhouse
P O Box 183
Clarksburg, CA 95612