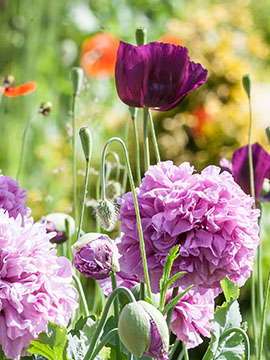 Obituary of Ly Ngoc Chan
Ly Ngoc Chan, 103, was born on June 14, 1918 in Vietnam. She passed away peacefully on, March 26th 2022 in Sacramento, California. She is survived by a loving family: her daughter and son and countless grandchildren, great grandchildren, and friends.
Ly spent her childhood years herding an ox on the family farm. She grew up working the farm plowing the fields, seeding, and processing agriculture goods. She did extensive squatting, walking, and exercise when it came to harvesting rice. She grew up poor and work was a way of life to make ends meet. She married her husband at the age of 16, while her husband was 22. They prospered and went on to own a jewelry shop in Vietnam. They had two kids, one had a full Chinese education, and the other had 6 months of Chinese schooling.
Ly was sponsored to live in San Jose for a couple years at the age of 63. Ly lived with her husband until she was 73. She lived in the Lemon Hill apartments with her adopted grandson. She always took great joy in babysitting her great grandchildren. At the age 89, she went back to Vietnam for 2 years to visit family, friends, and ultimately take some much-needed vacation time. In 2006, she moved in with her daughter in West Sacramento, California. In 2009 she went on vacation with her daughter and granddaughter and walked the Las Vegas strip with no issues whatsoever. She lived a long life by eating simple and small portions (rice and veggies); always staying active with long walks and doing hundreds of squats a day. Ly was happiest when she was outside getting some sun and loved the heat!. She also liked wearing 6 layers of clothing because she was always cold. Even if it was over 100 degrees, she would wear 6 layers of clothing because it was just too cold for her.
In 2017, she lived at the College Oaks Nursing and Rehabilitation Center (CONR). During her time there, she learned how to properly use a wheelchair for mobility; as her walking was slowly declining. She also would spend her evenings and early mornings wheel-chairing herself around the whole facility without any assistance! She also learned to enjoy Vanilla Ice Cream and Chicken Soup at her time there. The Nursing staff at CONR loved her fun-loving, witty, generous, and giving personality. All staff at CONR called her "Grandma" just like their very own. She loved to hug them daily. At CONR, she continued hating flowers and wasting food as she did much of her life. She always told her family she wanted to lead and live a simple life.
Ly Ngoc Chan will be deeply missed by all those that she's left behind. She was one of a kind; and to be loved by her was to be truly blessed. She wished to be remembered and acknowledged as a hardworking, righteous (always doing the right thing!) woman; she was a loving wife/mother/grandmother/great grandmother- she was always loyal with integrity and was truly unselfish in how she lived and carried her life. In addition, Ly was a very stubborn woman all the way til her very last day; but we take comfort in knowing that she is now at peace surrounded by family and friends in her afterlife. Most importantly, she is now able to bathe and bask in forever endless "Sunlight."
To send flowers to the family or plant a tree in memory of Ly Ngoc Chan, please visit Tribute Store
Services for Ly Ngoc Chan
There are no events scheduled. You can still show your support by sending flowers directly to the family, or planting a memorial tree in memory of Ly Ngoc Chan.
Visit the Tribute Store


Share Your Memory of
Ly Ngoc